Get a "Like New Again" Look with Big Bear Carpet Cleaning's Tile and Grout Cleaning Services.
As a home or business owner you know that cleaning your tile and especially the grout lines can be a daunting task. The grungy, dingy or stained grout lines between are very difficult to get clean on your own using household products. Normal cleaning of a floor leaves a grungy detergent residue in the grout lines. That's why you need a professional floor care services company offering specialty tile & grout cleaning services like Big Bear Carpet Cleaning. Our dry extraction cleaning system will give your tile and grout a "Like New Again" look.
Big Bear Carpet Cleaning / Tile and Grout Cleaning Specialist!
When a tile floor is installed it's simply not common practice for the installers to apply a professional strength grout sealer.  Because grout is porous, if it is left unsealed, dirt, cooking oil, grease, spills and detergent residue become embedded. Once it's embedded it requires professional cleaning processes and products to restore it to its original appearance.
After providing our professional tile and grout cleaning services, we recommend an application of a Clear Grout Sealer which will protect your grout and make much easier to maintain between professional tile and grout cleanings.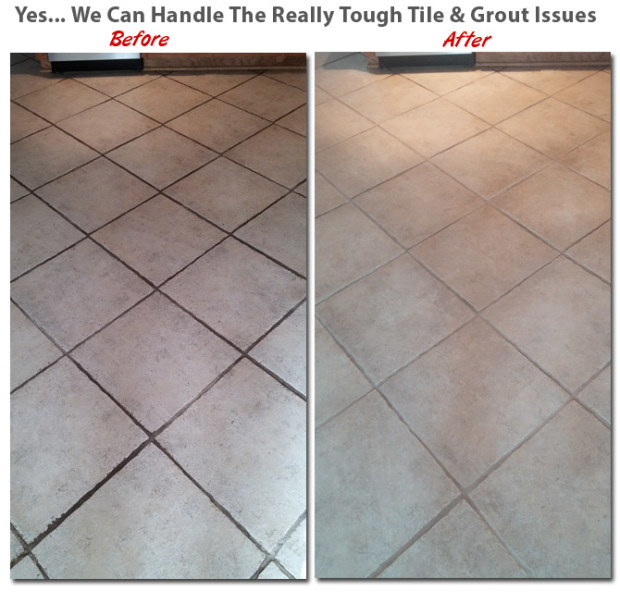 Dry Organic Carpet Cleaning – A great complement to Tile & Grout Cleaning
A clean carpet is a great complement to your newly cleaned tile & grout. We use an exclusive 6-step carpet cleaning process utilizing dry extraction and specially formulated Eco-friendly cleaning products that removes deep-down dirt, spots and stains leaving your carpet soft, clean, fresh and ready to use immediately. Our carpet cleaning technicians will start with a pre-inspection to identify any problem areas so that they can leave you with the cleanest, freshest, most beautiful carpets possible.
Our Tile & Grout and Carpet Cleaning Products and Processes Are "Top Rated" 
In a test of in-home carpet cleaners reported by America's Leading Consumer magazine,  Dry Extraction Compound Cleaning systems were rated "Excellent"!
Safe & Healthy Carpet and Tile and Grout Cleaning Services
The products we use to clean your tile, grout and carpets are all natural, nontoxic, biodegradable and safe for people, pets and the environment. They are also safe for use on all types of carpets and rugs, including natural fibers like wool, sisal and jute.
WoolSafe Approved
USDA BioPreferred Certified
Green Seal Certified